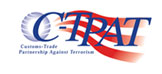 BassTech International has been a trusted partner with our customers for over twenty years. Now we are a trusted partner of the Department of Homeland Security, having received C-TPAT Certification from the U.S. Customs and Border Protection.
Our Logistics department completed a rigorous evaluation and documentation process to be among only a handful of importers certified under the Customs Trade Partnership Against Terrorism (C-TPAT).  With this certification, BassTech International's imports will continue to enter the United States on a timely basis, ensuring continuity of supply to all our customers.  BassTech International has taken the necessary security upgrades with our suppliers and transporters, offering a vital contribution to secure our borders and ensure the continued free flow of international trade.
We would like to offer a big congratulations to our Logistics department for their arduous work to ensure compliance.