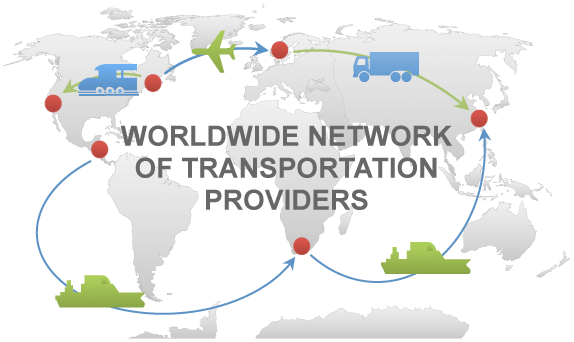 Over the past two decades, our fully-integrated logistics platform has allowed us to maintain our high level of customer service while continuously expanding global sales. We currently move about 50,000 metric tons per year by containerized cargo, part chartering, and bulk shipments.
Safety and Compliance
Our staff is educated in the transportation and storage of both Non-Hazardous and Dangerous goods, with all certifications necessary to guarantee proper handling. To ensure compliance with tightening regulations, we operate under Responsible Distribution, accredited by the U.S. National Association of Chemical Distributors. This audited protocol of handling chemicals guarantees that the security and integrity of our materials is maintained, from point of loading at our plants overseas to our customers' doorsteps. This is coupled with periodic training for all our staff and warehouse personnel in the proper handling, storage, and shipment of our chemicals and polymers.
BassTech also fulfills the requirements for U.S. Customs C-TPAT Certification, satisfying the requirements of Homeland Security for secure supply chain documentation. Also, on behalf of our European Customers, BassTech has ensured continuity of supply for strategic raw materials by taking the lead on REACH registration or participating in SIEFs. The knowledge base that we have acquired from participation in the registration process assures customers of the continued availability of critical materials, competitiveness, and supply.
Storage
We operate multiple warehouse facilities worldwide that are conveniently located to our customers, so we can offer just-in-time deliveries and flexibility of supply. In the United States, our warehouses are strategically situated in major port cities. We also operate several warehouses in Belgium, India and China to meet the local markets.
Delivery
We deliver material from bag load quantities to bulk silo trucks or railcars, handling transloading operations in North America and Europe. These services are duplicated globally to offer the best delivery options to our customers, optimizing their inventory costs and ensuring employee safety. We pride ourselves on creative and timely solutions to our customers' logistic requirements. We can repack material, transload material, deliver in liquids, deliver in dry bulk, or any combination thereof to ensure our customers' optimized handling and employee safety.
Import/Export
Our logistics capabilities include handling customs formalities on behalf of our customers. In addition, US Customs has certified BassTech as a partner in the Customs Trade-Partnership Against Terrorism (C-TPAT) protocols, making us one of only a handful of importers to do so. This ensures BassTech's imports will continue to enter the US on a timely basis.