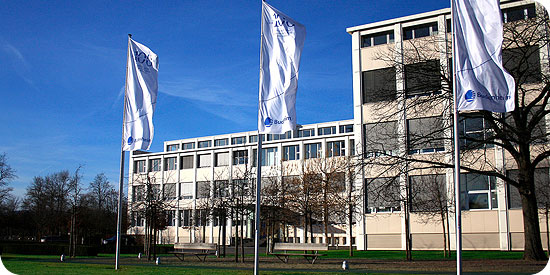 Photo source: budenheim.com
Founded by Ludwig Utz and Jean Hershel in a small German village in 1908, Budenheim made its start by producing tartar and coffee granules during its early years. Since then, it has diversified its product offerings, becoming a global leader in producing phosphates.
Early in the 20th century, Budenheim became one of the first producers of calcium and sodium pyrophosphate as baking powder foaming agents. They were able to produce consistently high quality phosphates and found success working with Dr. Oetker, the European leader in baking and dessert powder production. This partnership proved to be especially successful in the early 1920s when the demand for baking powder significantly increased. It also led to expansion and growth, enabling Budenheim to supply phosphate salts for the production of processed cheese, flour, cleaning products, water, medicine, refractories, metal treatment and other industrial applications. Fun fact: Budenheim's phosphates are in the buttons in military aircrafts that allow pilots to operate while wearing night vision goggles, the violet glass covering airport runway lights, developing fluids for mammograms and even part of the glass for the world's largest laser project!
Budenheim developed its own procedure to obtain pure phosphoric acid that meets the requirements of the highly sensitive pharmaceutical and food industries. This procedure has become the current global standard for producing pure phosphate. Budenheim's process of turning phosphoric acid into phosphate also yields 30% water, which is recycled during production. For every 100,000 liters of processed phosphoric acid, 30,000 liters of clear water are also produced.
Today, the company supplies approximately 230,000 tons of phosphates per year to technical/industrial sectors beyond just food and pharmaceuticals. BassTech is Budenheim's North American agent for all industrial applications and is a long-time supplier to the refractory industry. Budenheim / BassTech supplies specialty phosphates such as aluminum phosphates, which are ideal as hardeners for silicate-based systems and also as components of refractory dry mixes. Others, like boron phosphate, are used in high temperature phosphate bonded refractories and flame retardants. Another example of phosphates in technical applications is iron orthophosphate, which is used in steel manufacturing, base coatings and bonding agents.
Budenheim attributes their success partly to the highest quality, application-specific service they provide to clients and continue to make developments in the world of phosphates. They are the only global phosphate producer operating a fully staffed development laboratory for the refractory and traditional ceramic industry. These products find unique applications as deflocculants, binders, anti-wetting agents and set-control agents for many of our refractory customers. With locations and partners like BassTech International around the world, Budenheim serves over 6,000 customers from more than 100 countries.