BassTech International supplies Fabutit 734 produced by Chemische Fabrik Budenheim. Fabutit 734, owing to its special composition, is a very effective deflocculant. Compared to common Sodium Tripolyphosphate (STPP), it particularly excels in solubility and efficiency. High solids contents can be obtained even with products considered difficult to liquefy. In a standard test with a 70% clay suspension, Fabutit 734 is about three times more effective when compared to standard STPP.
The most favorable addition ratio is between 0.1 and 0.5% by weight, based on the solids content. Since the effect on different raw material can vary, we suggest carrying out comparative tests.
The following diagram is a comparison between Fabutit 734 and common STPP. The deflocculating effect of Fabutit 734 is remarkably better than with STPP. The test was made with a 70% suspension of clay. The addition ratio varies between 0.2 and 0.6%. The viscosity was measured in mPas by a Brookfield-viscometer.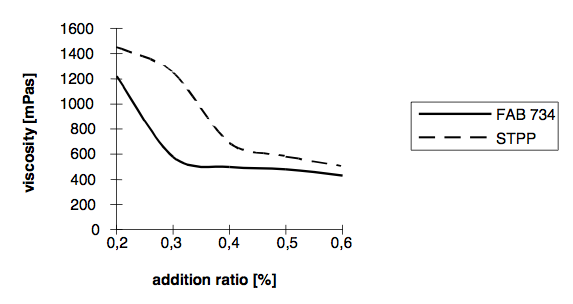 Industries who use Fabutit 734
Refractory
Detergent
Ceramic
Paper
Anticorrosion pigments
Rubber Manufacture
Textiles
Flame Retardants
Antifreeze
What is STPP?
Sodium Tripolyphosphate is an inorganic compound with the formula Na5P3O10. It is the sodium salt of the polyphosphate penta-anion, which is the conjugate base of triphosphoric acid. Our Fabutit 734 is a proprietary modification of STPP allowing for better deflocculation at a lower addition ratio.
Fabutit 734 Specifications
| | |
| --- | --- |
| | |
| pH-Value (approx.) | 8.5% |
| Solubility | Rapidly & readily soluble in water |